June 3, 2012: Washington, DC
"...Amazing show for us TRUE fans who have seen Idioteque and EIIRP enough, and appreciate some different songs that we've NEVER seen live. Go see Aerosmith if you wanna see nothing but popular shit."
-Donovangoode
That little ditty is compliments of an At Ease reader in response to someone that criticized Radiohead for closing last night's show with Reckoner and for leaving out some other fan favorites. It's a stupid comment (the one above, that is)--but for reasons I can't quite explain, almost any reference to Aerosmith makes me laugh and that's the only reason I'm highlighting it.

Let me get my disappointments out of the way first: nothing from the Bends, the Verizon Center, and yes, closing with Reckoner. I understand it's hard to cover your entire catalog when you've got eight, full-length studio albums, but the Bends in my opinion is just too good to completely ignore. The general admission floor of the Verizon center was at most at one-third capacity (while the seats around the perimeter looked near capacity). I didn't like looking at that and I can't imagine it looked any better or more motivating from the stage. Was this some kind of safety issue?
I love Reckoner--I just don't want them to close a double encore with something that mellow. At previous shows an Everything In Its Right Place (EIIRP) closer immediately took my head to 'where are they playing next and can I get a ticket?' Reckoner left me thinking 'that was pleasant...tomorrow is a work day, isn't it?' I can't imagine how bored a band gets doing the same thing show after show, so picking something other than EIIRP makes sense. I would just hope that they pick something that sets a more positive, exit tone. Perhaps the National Anthem (which they played in their main set with a nice Queen Elizabeth radio overlay), or Paranoid Android (which closed their first encore) would have done the job for me, as well as others that weren't on the set at all (e.g., an extended version of 2+2=5, Just, or My Iron Lung).

I have more disappointments than I originally thought. Without EIIRP and without Idioteque, the set was pretty slim on what I think of as Radiohead's dance-side. Some songs that don't don't usually make the rotation are possible candidates to fill that hole: I Might Be Wrong, Where I End and You Begin, and Packed Like Sardines in a Crushd Tin Box.
Finally, on the disappointment side, I have one issue that's bugged me across Radiohead shows. I believe they've become slaves to their own technology--their instruments as well as their beautiful light- and display-adorned sets. That technology appears to more or less determine their set list. At least, I can imagine, it makes it extremely difficult to adjust their set on the fly. Last night, their second song was Airbag. We weren't ready for it yet--it being any song with that much strength. I think the show would have benefited from better pacing. I'm not sure I'd quibble over this point if it were not for the experience I had in 2008, when they responded to two to three hours of bitter cold rain and wind by opening with All I Need--that's when we could have done well with something like Airbag, or something even more impromptu as previously suggested.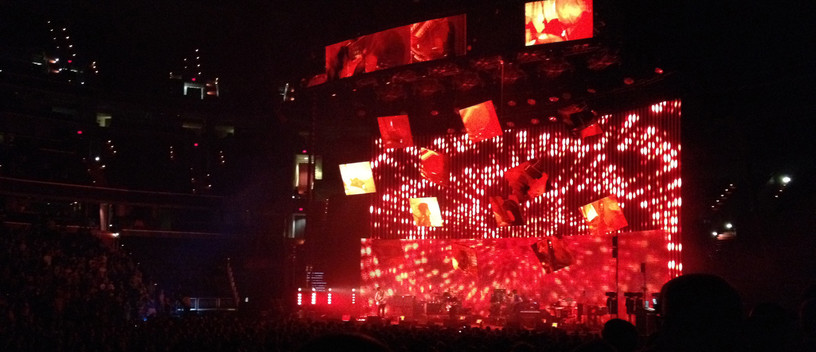 Still, it's that same technology that leaves me in awe, especially the lighting and video displays. The warm glow of their multi-story LED "sticks" set a wonderful mood and beautifully complement their music. I can't explain this stuff like a music theorist or one with any academic credibility, but Radiohead delivers a package of "tones" that seduce me. Songs like the aforementioned ETIIRP, as well as those featured last night -- Reckoner, Lotus Flower, and Codex make my ears shed tears of toy. Their displays do the same to my eyes. And since a large component of their visual set includes 15 or so suspended TV displays that float through the air changing their position from song to song, I'm in a tough spot to criticize their lack of improvisation. The puppet master of those displays surely wouldn't call me a friend if I had the voice to convince them to change things up on the fly. My iPhone photos don't do their set justice--Pitchfork has a nice gallery from their Bonnaroo performance.
When my eyes were not fixed upon the lighting, they were generally focused on Johnny Greenwood (or one of the displays that tracked his movements). Second only to Thom's voice, he is what continues to make this band my favorite. It was great to see him a little closer moving from instrument to instrument. The displays did an excellent job of zooming in on the finer points of his work--work on the keys, manipulation of some kind of oscillator and great isolated shots of the body and bridge when he manned a guitar.
Ignoring everything except the music, the night's personal highlights were Lotus Flower and Codex. I went to this show hoping King of Limbs would somehow get demoted for just one evening. That didn't happen but I ended up appreciating more of their new work than expected. I wasn't enamored with In Rainbows when I saw them for that tour either and its place with me has only grown, so maybe that will be the case with Limbs too. One other musical highlight--Reckoner. It's just too pretty for me to hold a grudge against.